Provide a detailed log of all changes to hardware or software made to the observatory on this page.
2021 10 30 (Replace PDU1 , PDU2 and PDU3)
VB 13:00 CEST   Started replacing the PDUs
                checked cables and connections          

VB 15:05 CEST   4 New PDUs installed
                updated C:\Abot\Devicehub\bin\pdu.config acordingly
                new are PDUs 1 - 4 192.168.3.66 .67 .68 .69
                old PDU 4 is now PDU 5 (still 192.168.3.64)

VB 17:00 CEST  Adam got ABOT running again with the new PDUs 

VB 12:20 CEST  
2021 10 12 (Maintenance done on Mount)
VB 10:00 CEST Maintenance started and don by Ivan Mariotti and son from 10micron.
                                
              - telescope was rebalanced some counterweight still missing on RA axis 
              - replaced power board for motors and 
              - mechanical part for both drives to improve preloading.
                      
VB 13:00 CEST Maintenance completed
2021 07 27 (Update mount Firmware)
VB 16:00 CEST Handed over Telescope control to Johannes Baader

JB 18:45 CEST Firmware for the GM4000 HPS mount sucessfully updated to Version 3.04. 
JB 23 15 CEST the System worked quite stable w/o Network issues over 4 hours. 
              After that we stopped monitoring. 
              Mount power was also checked: the Power on the mount was in a range of very rarely 23.8V to 25.0V 
              Even with the mount being still and parked all the time. 
              This is not considered flickery... 
              If the voltage drops bellow 24V the mount really does not like that.
              Most likely the power supply is not working perfectly anymore. 
PS 23:42 CEST Abot started after the change but the mount responds much slower than before, 
              usually it responded with status update within less than one second, right now it is always over 3 seconds. 
              It will slow down the whole image acquisition and will make LEO observations problematic 
              (mount position update 3 seconds after the real position is a lot for low orbits). 
              I will let you know if the system works ok once we will have a clear sky.
2021 06 08-09 (shorten large distance ring, optimise focus range)
VB 16:30 CET Stop abot 
             removed cameras adn focuser
VB 18:30 CET mount thinner distance ring
             mount focuser and cameras 
             Restart ABOT
             New focus needs to be found ....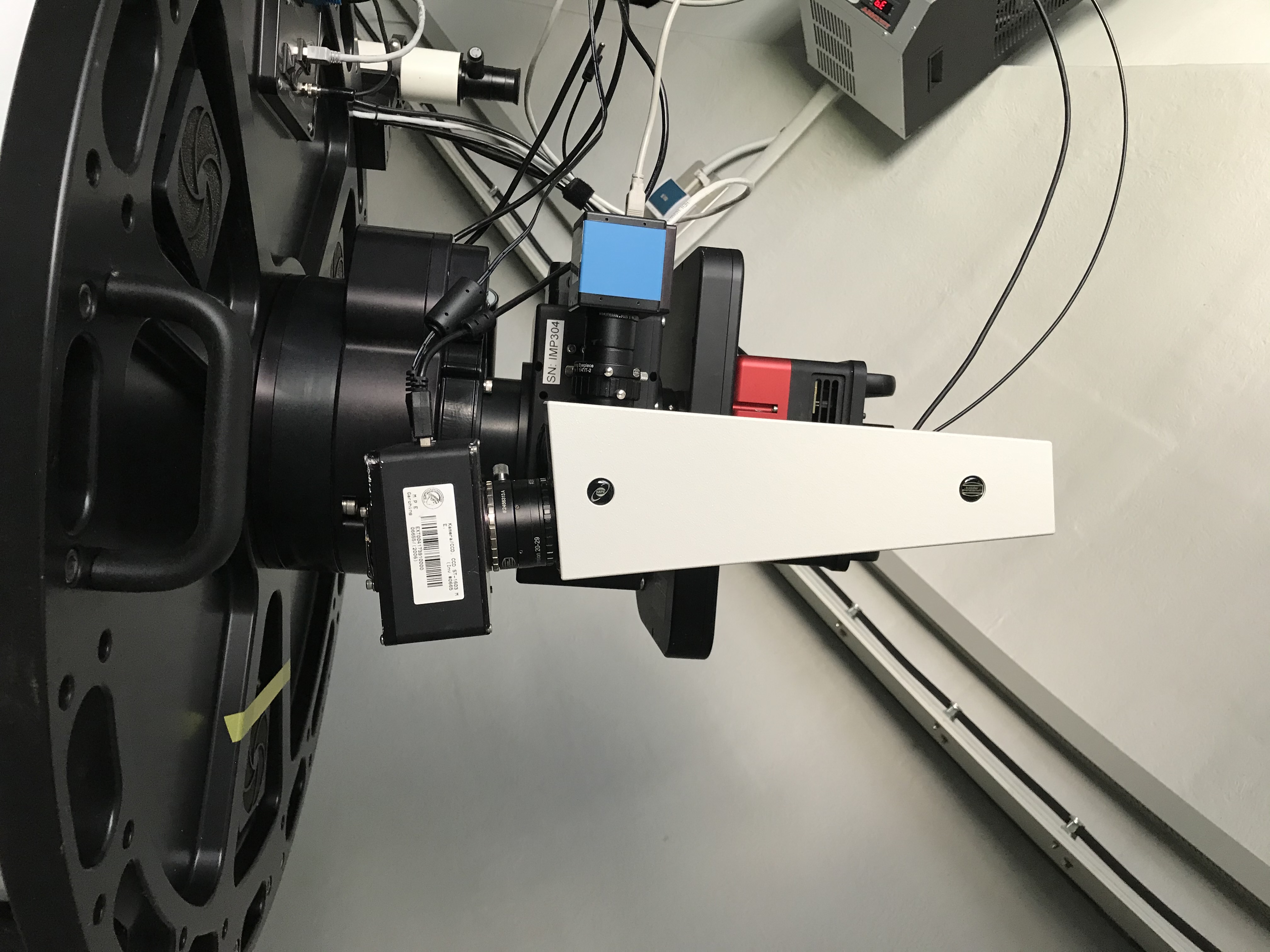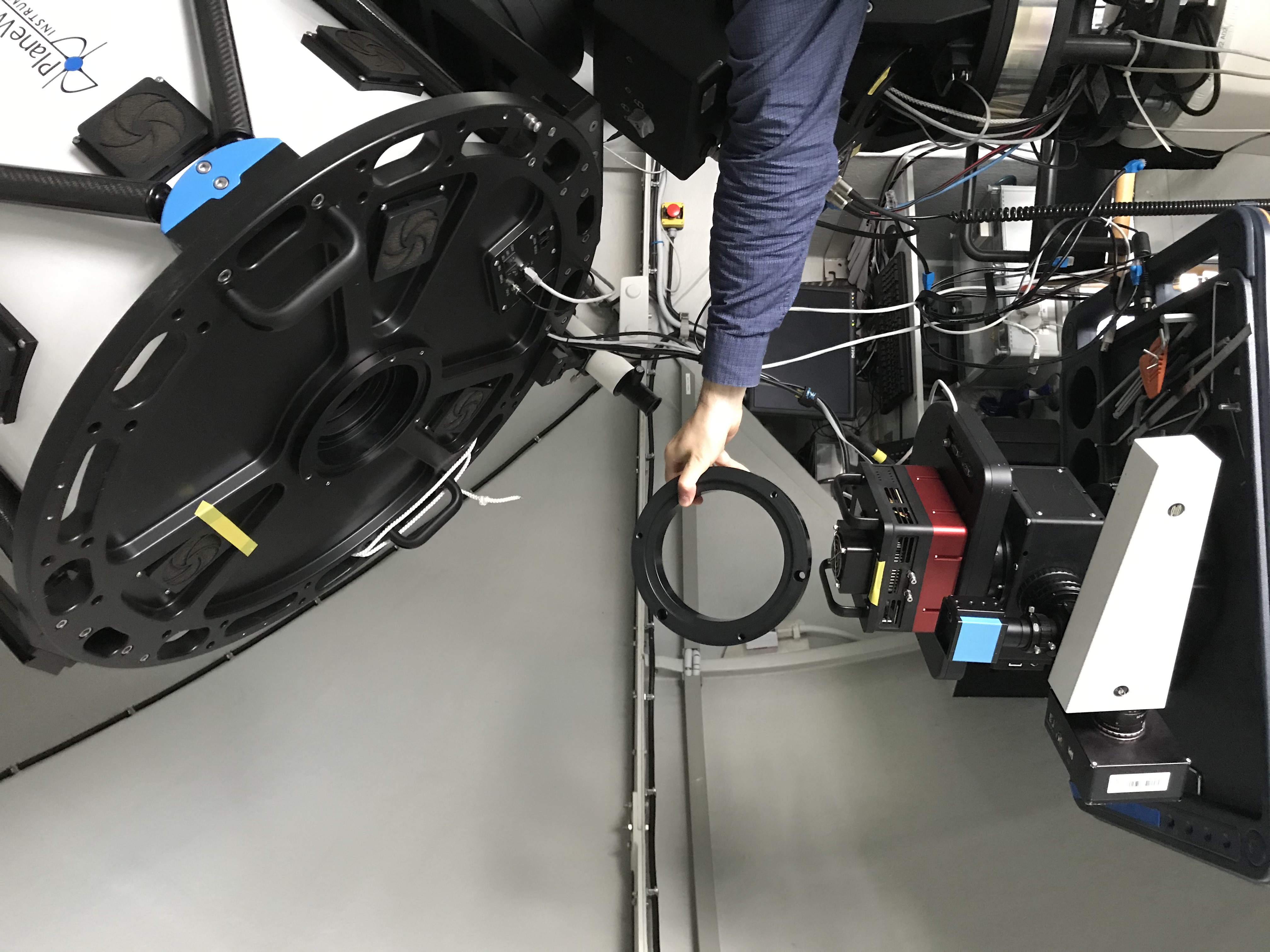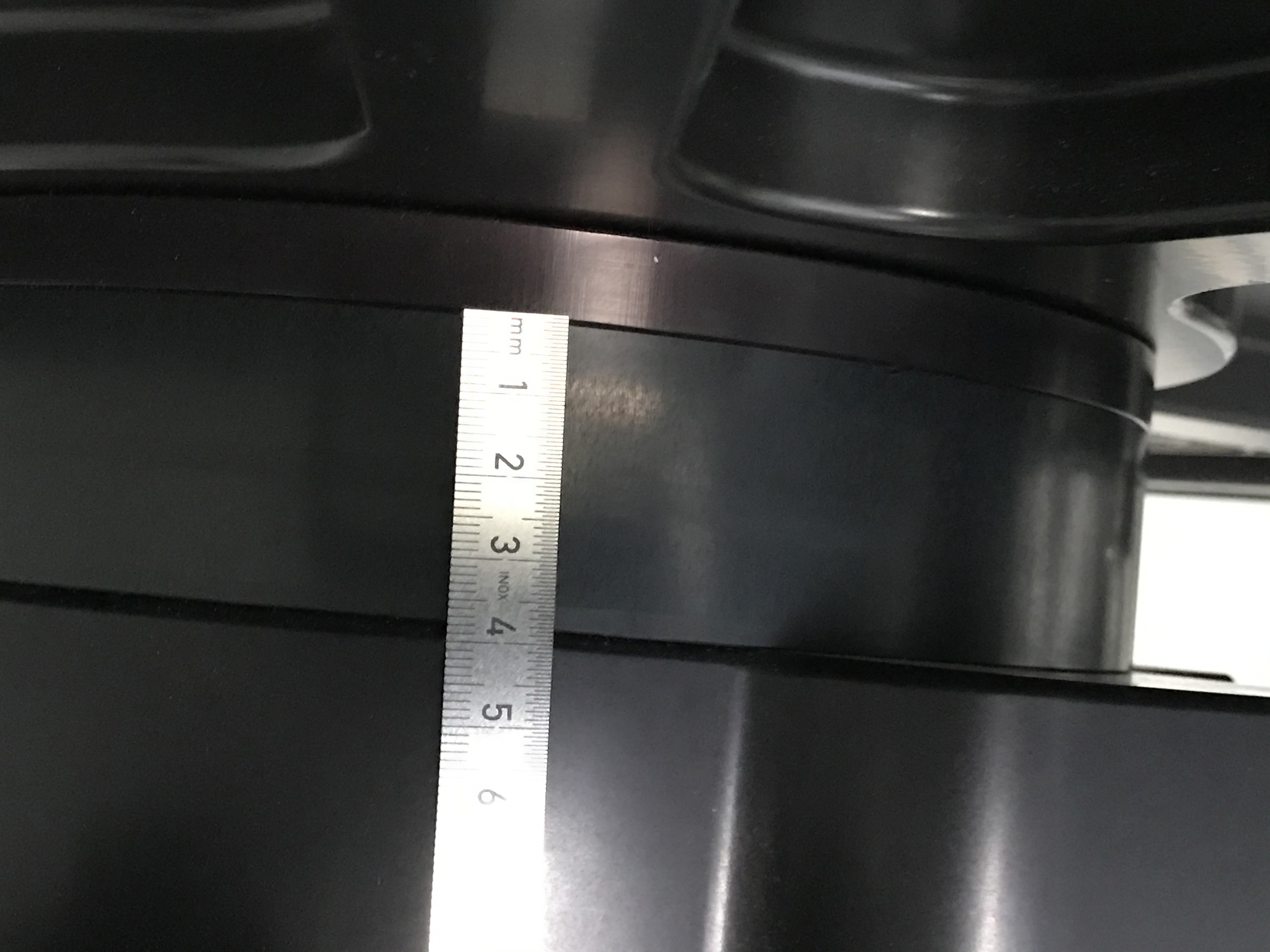 2021 02 23 (Install IMP Multiport Adapter)
VB 15:30 CET Stop abot 
             Roman Gümperlein (Baader) and Jesus Rodriguez (ESO/CAOS) were present for: 
               removing GOWI (CCD Camera) from IR90 focuser Rotator
               Attaching the IMP Multiport adapter to IR90 focuser Rotator
               Installing IMP software: running and connected on control PC 
               Attaching GOWI to IMP (direct beam)
               Attaching BACHES to IMP port ??       (BACHES need connecting)
               Attaching Eyepiece to IMP port ??   
VB 18:30 CET Restart ABOT
             New focus needs to be found
2017 02 14
TS 20:35 CET Stop abot
TS 21:07 CET Restart abot (was still somehow running after stop abot.. make sure it's stopped properly before restarting)
2017 02 15
TS 17:00 CET Stop abot
             Dismount GOWI
             Mount BACHES
2017 08 01 reinstall GOWI
VB 09:00 CEST Removed FLI camera and reintalled GOWI = SBIG STX-16803 with GPS shutter timing modification 
2017 09 08 eduroam
VB 12:30 CEST Installed and tested eduroam access point in dome successfully